Helping make a difference
McGrath Foundation
Getting diagnosed with a life-threatening illness can be compared with free-falling without a safety net. Sadly, we all know of someone who has found himself or herself in such a life-altering situation.
Breast cancer is the most common cancer in women in Australia and the second most common cancer to cause death in women, after lung cancer. In 2017, it is estimated that 17,586 women and 144 men will be diagnosed with breast cancer, an average of 48 people every day.
Jane's vision
Unusually, Jane McGrath was barely 31 years old at the time of her diagnosis. After marrying celebrated Australian cricket fast bowler Glenn in 1999 and based on her experience with the aftermath of the disease, they established the McGrath Foundation to raise money for Sydney's St George Cancer clinic. She realised that many people face trauma in their lives, and she promised to 'rise to the challenge'. And that she did.
Jane experienced first-hand the warm embrace of support of a breast care nurse, and saw the benefit of her own 'pink angel' not only for herself but for Glenn and their children. Her pipe dream was that every family in Australia experiencing breast cancer should have the support of an 'angel' and the McGrath Foundation began to focus on offering care and support to those who need it, and to celebrate 'life' because life is there to be lived. Jane was terrified that girls were growing up thinking breast cancer wouldn't touch them, because she knew from experience that it does. It was with great shock and sadness that Australia learned that Jane McGrath had died on 22 June 2008 aged just 42.
Life is to be lived
With its work cut out, the Hulsbosch team designed a logo that is true to the brand essence: 'life is to be lived' and its promise of providing care, support and expertise. The new design is a looping, deep pink embracing design that is a suggestion of the familiar cancer ribbon and a heart. The bold graphic of the 'life force' is symbolic of the continuing experience of all those touched by breast cancer and the optimism that is synonymous with the Foundation itself.
Raising more awareness
Since then, the McGrath Foundation has evolved into a breast cancer education and support charity aimed at making sure every person suffering from breast cancer has access to a specialised breast care nurse, regardless of where they live or their financial situation. The McGrath Foundation carries on not only Jane's vision, but her sense of fun, generosity of spirit and love for life and after ten years it was time that the renewed focus and spirit of the Foundation was reflected in its identity.
Project Scope
Logo creation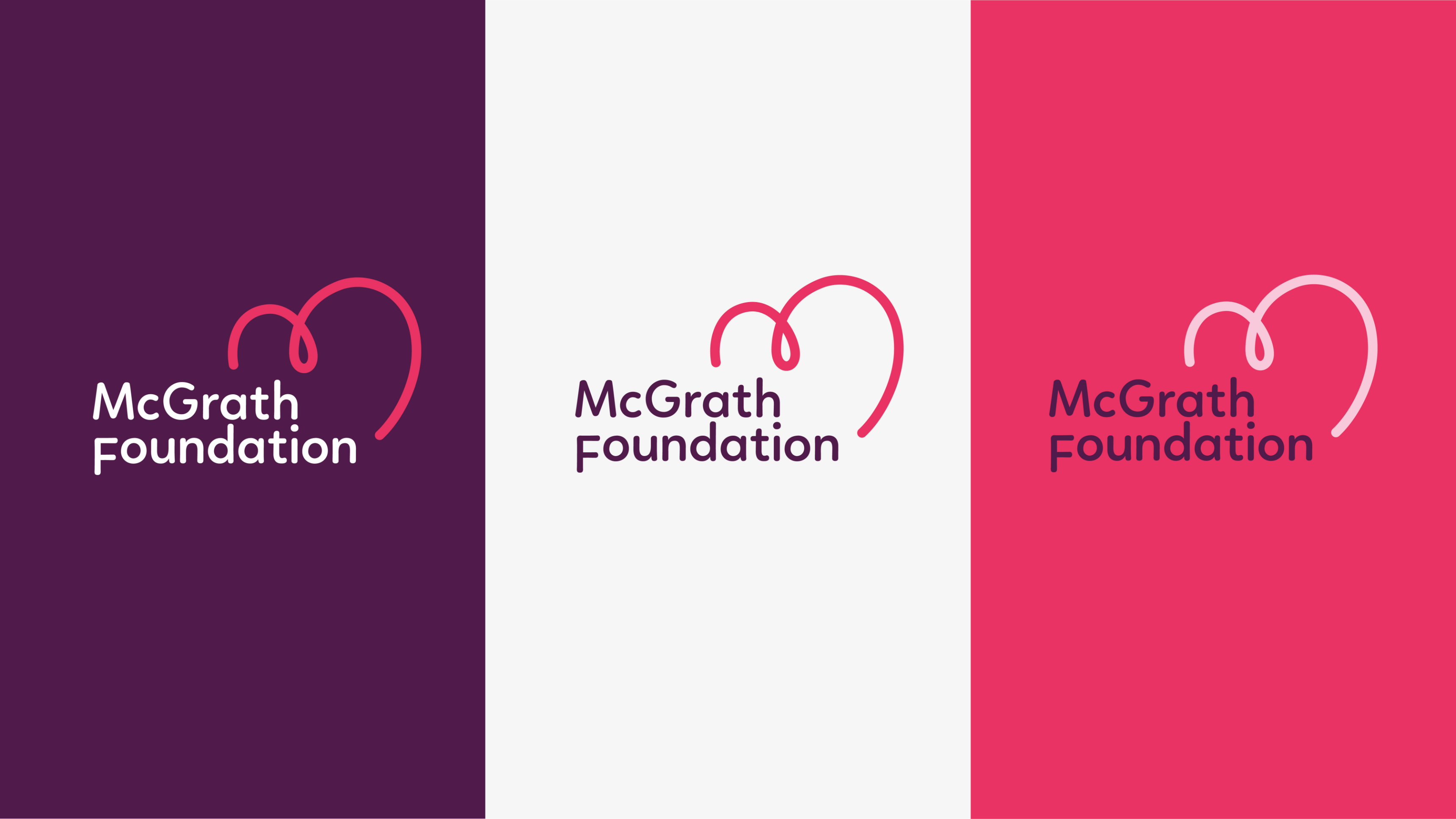 'I am especially proud of re-branding the organisation and increasing the brand awareness and ranking of the Foundation in "AMR's Charity Reputation Index", from ninth to seventh place nationally, and the consistent ranking in the top five of the "GiveEasy Innovation Index.'

Petra Buchanan
CEO, McGrath Foundation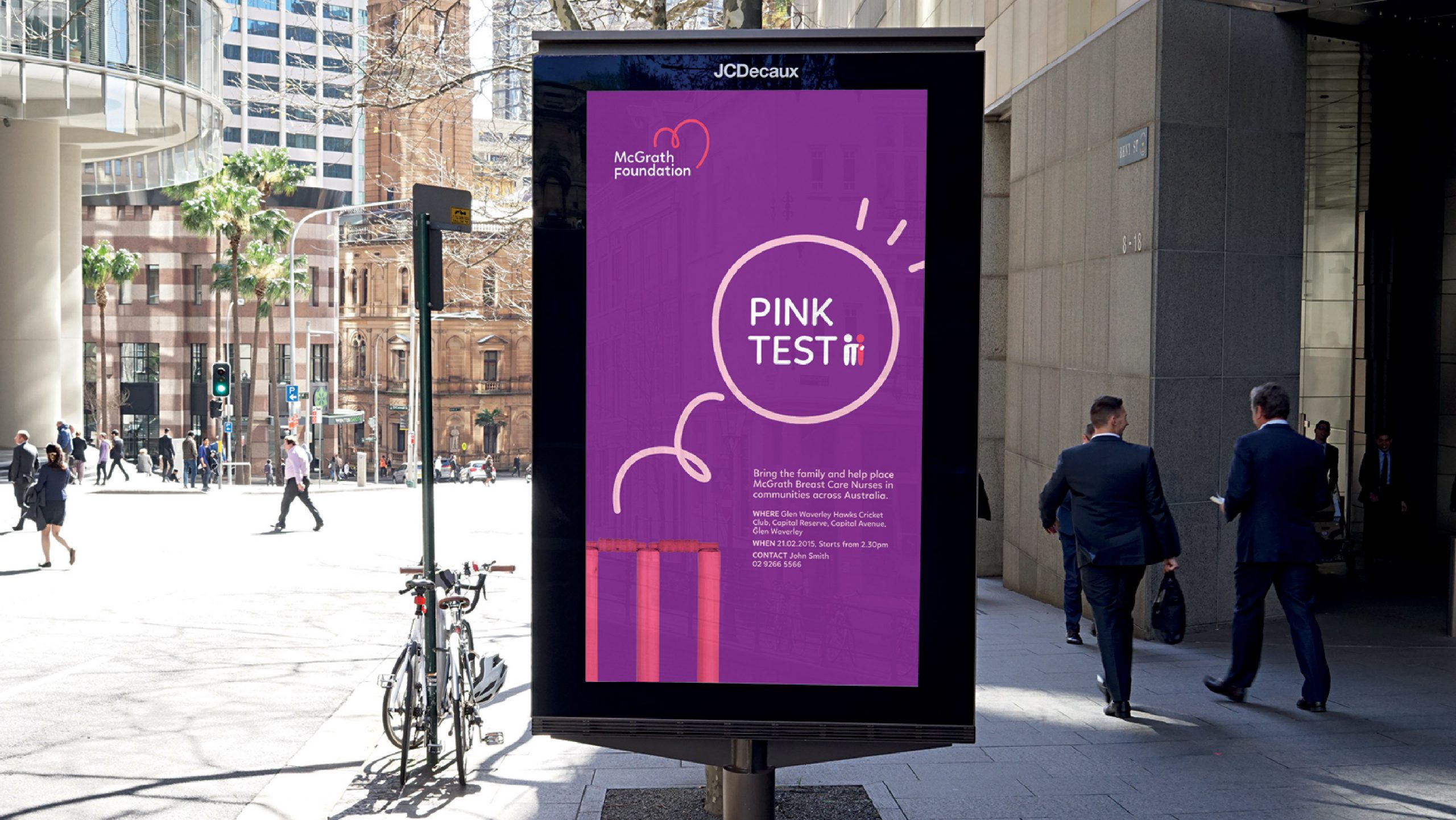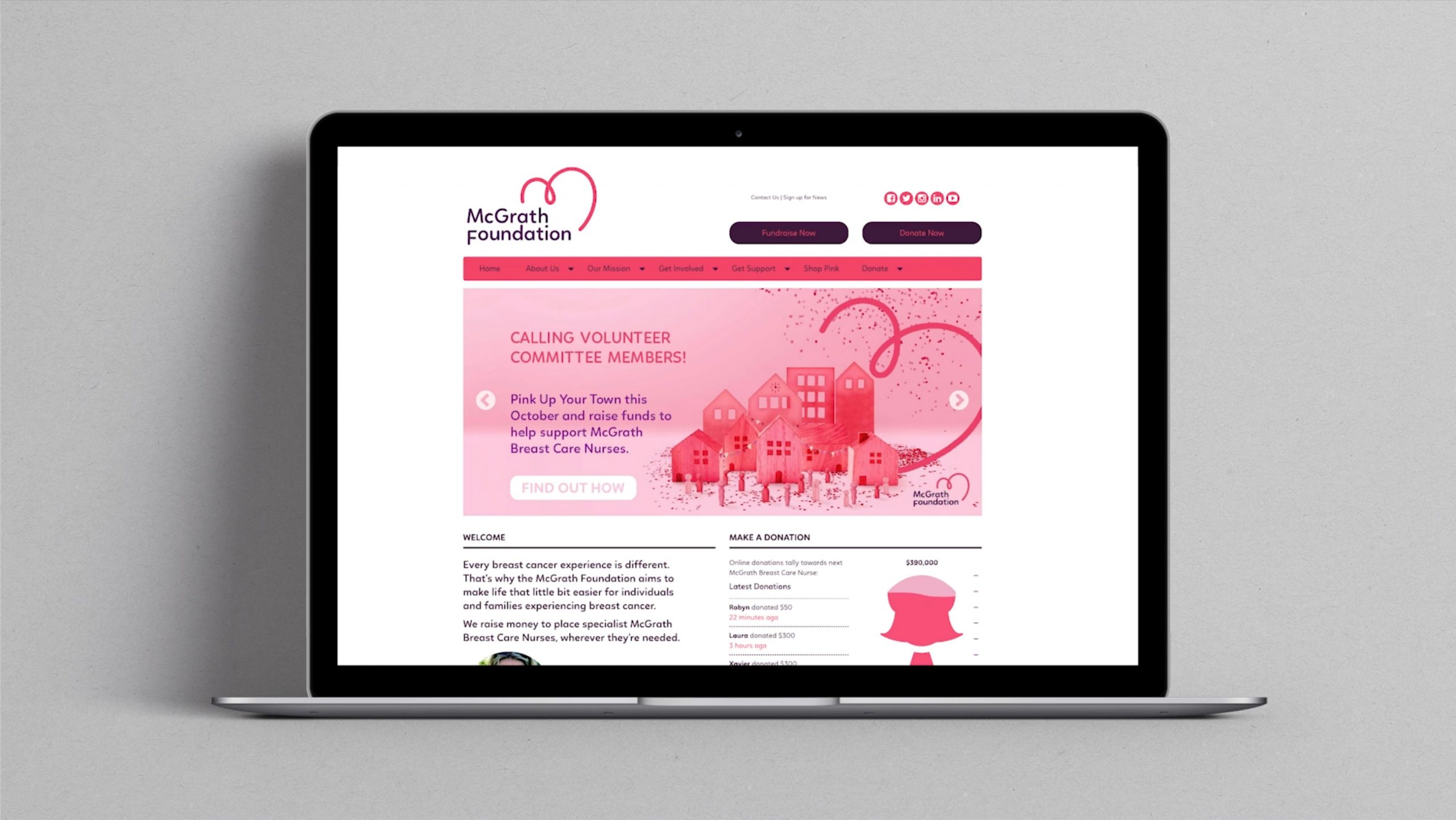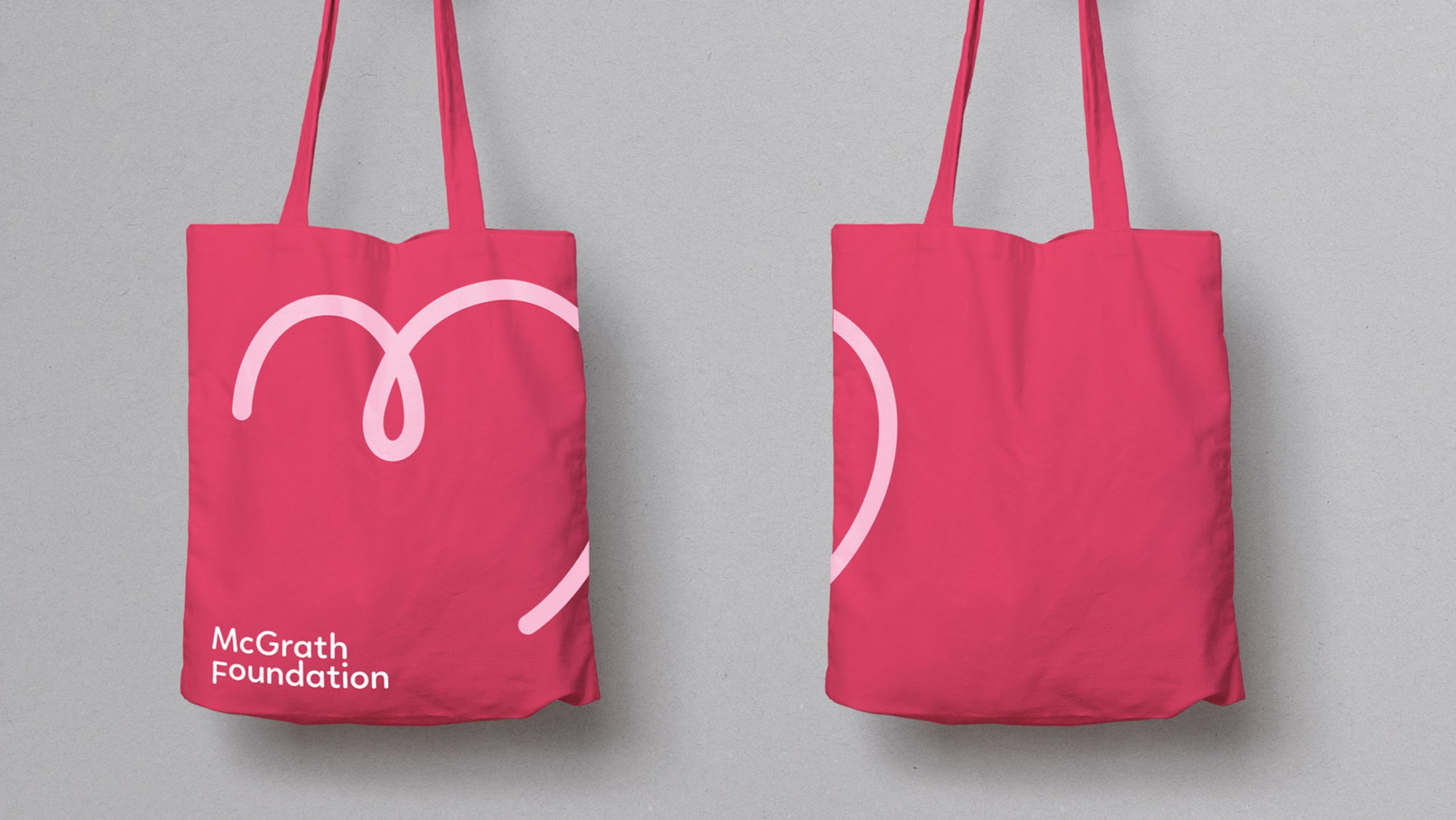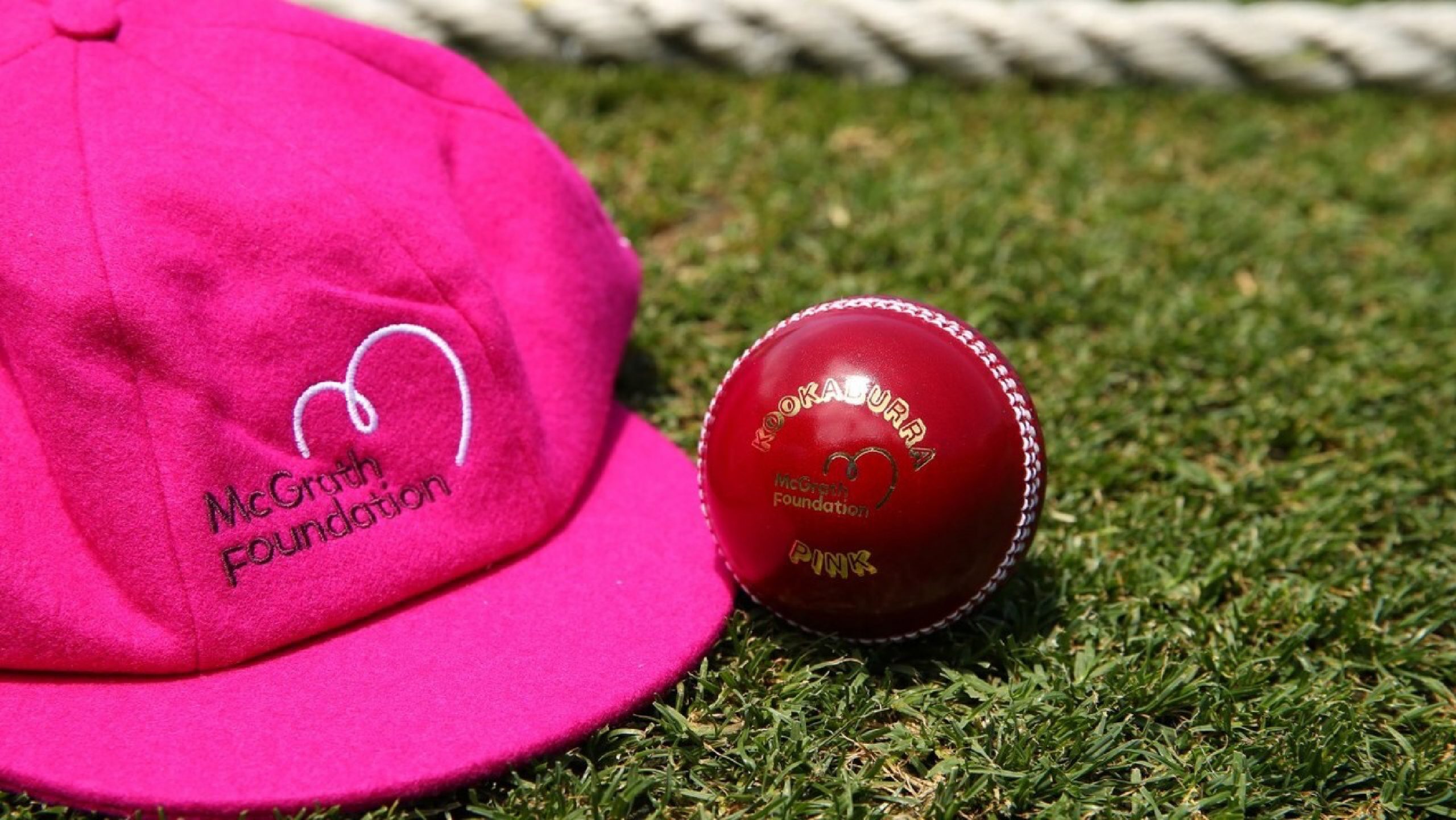 'The new logo represents the warm embrace of the care and support provided by McGrath Breast Care Nurses, and also reflects the energy and vitality of supporters, and friends of the McGrath Foundation.'

Glenn McGrath
Foundation Chairman and Cricket Legend