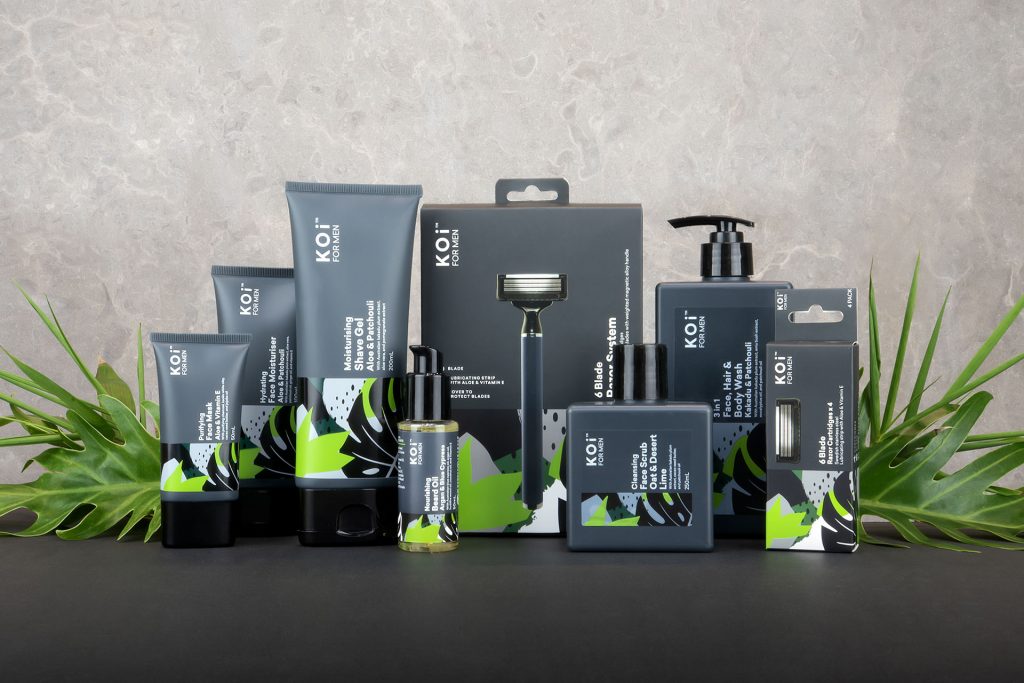 KOi Skin Care Brand for Men by Hulsbosch
Brand and design agency Hulsbosch have launched a range extension for the international award-winning skin care brand of products KOi, introducing a sub range called KOi for Men.
Hulsbosch created the brand KOi and continues their work with a new identity and product positioning for KOi for Men. The new sub range maximises consumer choice within the highly competitive and ever-growing men's personal care and grooming category.
Eils Robertson, Senior Account Director at Hulsbosch says: "Owing to the highly successful launch of KOi, it made it possible to bring this range into the men's space, a key market category. KOi for Men's overt design, and its ingredient credentials have established a strong platform for growth in this highly competitive category, continuing to drive the overall brand forward into new frontiers."
The KOi for Men range, with eight products from Shavers to Body and Face wash, Moisturiser to Beard Oil and Charcoal Face Mask, is formulated to nourish, soothe, enhance, and protect men's facial hair and skin. The range is made with natural fragrances and feel-good ingredients to transform men's everyday grooming routine.
KOi for Men compliments the concept 'escape naturally into the world of KOi' and is a distinctly male brand packaging design to reflect natural strength and gentle care for the modern man. A simplified 'jungle' illustration matches the sleek lines of the new packaging.
To create contrast between the KOi female and male brands, design layouts use solid contrasting colours. For the KOi for Men range, a dark modern grey with white for brand identification and product descriptors keeps the brand sleek and distinguishable on shelf within the category.
Belinda Anderson, Head of Marketing Own Brand at Coles says: "Coles Own Brand and our exclusive products have evolved significantly over the past two years and KOi is a success story that we are very proud of. Customers love that KOi offers them more natural and sensorial products at a great price. The brand's design however is also critically important in this category where customers want to proudly display products in the bathroom and feel good using them. Our partnership with Hulsbosch has been about investing in brilliant brand development to deliver consumer value and commercial success."
Hulsbosch achieved top honours for the brand and packaging design of the KOi range, winning two Golds and the coveted best in show Publishers Choice award at the US Vertex Awards 2021. The KOi brand design work also won gold at the Australia and New Zealand Transform Awards 2021, in the Best Visual Identity for the FMCG sector.
Award season continued for contemporary skincare range KOi with three nominations at retailing's most prestigious competition, the Product of the Year 2021 awards. Product of the Year is Australia's largest independent consumer survey involving over 8,000 grocery buyers.